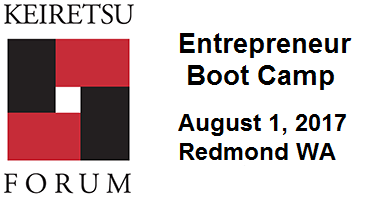 Want to start a company? Are you a CEO of a startup working on your first round of funding or getting ready to scale up?
How do you know you are making the right decisions at the right time?
Attend Entrepreneur Boot Camp and Learn from the Startup Experts!
Join us for a jam-packed afternoon of information — and wisdom — about key aspects of taking your startup from start to finish.
What: The Entrepreneur Boot Camp: Build to EXIT
When: Tuesday August 1, 2017, 12:00 noon to 5:00 pm
Where: Microsoft Building 33, 16070 NE 36th Way, Redmond, WA 98052
How Much: $100
Panel topics Include:
Legal: Structuring a Company to Exit
Build a Lasting Brand: Marketing in the 21st Century
Build your Executive Team: Who to Hire, When and Why
Funding Panel: What Qualities Make a Company Fundable
Build to Exit: Creating Success for You and Your Investors
Each panel will feature a number of startup experts who will share their insights and answer your questions.